Security & compliance for PROs
We give leadership, security and compliance professionals the wings they deserve with an all in one affordable ISMS
and GRC management system for an efficient implementation, certification and continuous improvement of any regulation or standard
Revolutionizing
Brainframe is the ultimate GRC/ISMS solution to manage multiple customers and/or complex entities in an efficient way

We make the choice of having a dedicated tool to properly document and organize your governance, security and compliance a no brainer.


Why is our management system different?
Because it is our company mission to help security/compliance consultants and professionals be as efficient as possible
We are visual
An image speaks a thousand words. That's why our system makes a big difference to get organised. If people understand the "Why" they tend to "Comply"

All in one place
Asset & risk management, meeting minutes, technical details, regulations, policies, procedures, tasks, auditable proof, ...

Flexible 4 U
You are the professional with your content and way of working. We just give you the tools you need to execute efficiently.

Easy for all stakeholders

Get actual involvement from leadership, employees, team managers and other stakeholders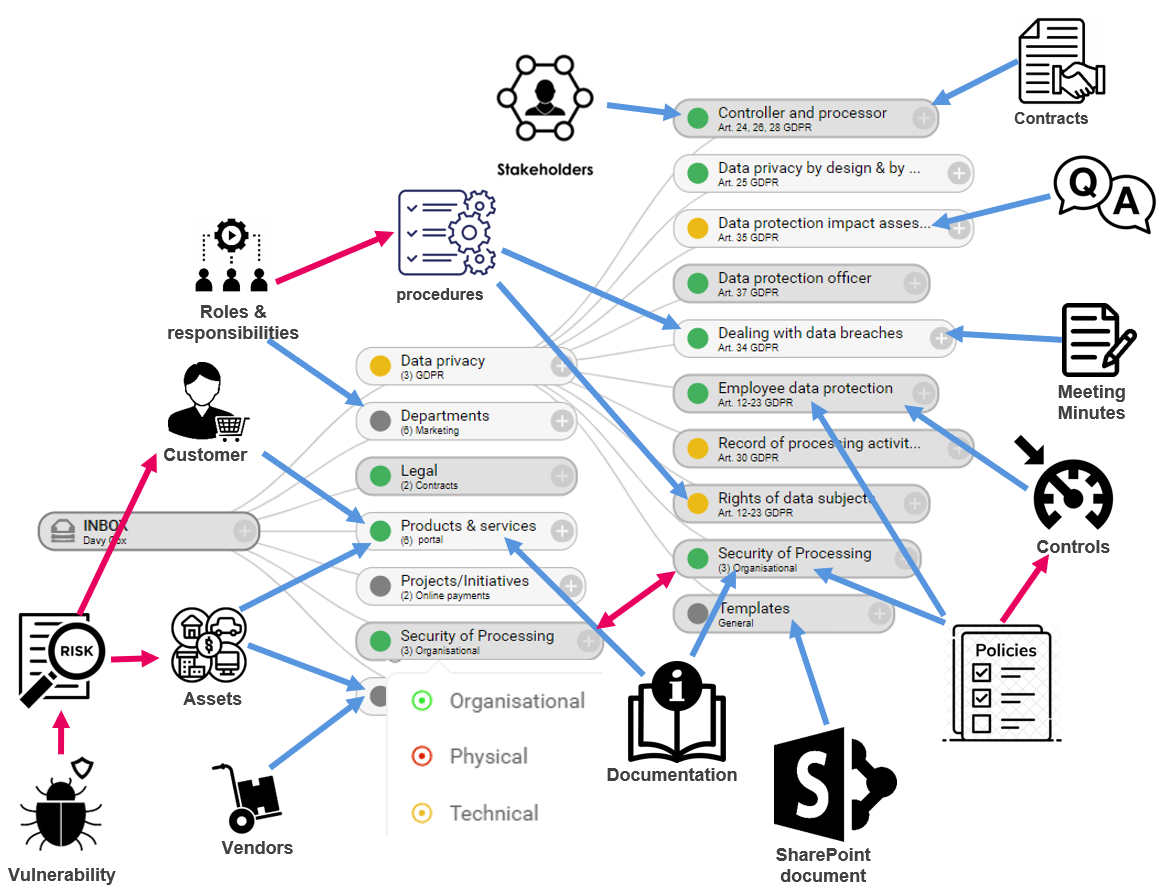 Compliance is an art, we give you the tools express yourself
Define your own folder hierarchy

Multi context folders with different content/subfolders




(e.g. Organisational, physical, technical context on Security)

Everything is a document (risks, assets, people, roles, ...)

Predefined asset document types




(Workstation, mobile, printer …)

Many industry document types




(Policy, Procedure, Role, Stakeholder, Control, …)

Create your own custom document types (e.g. product specific)

Build in document templates (or create your own for re-usage)

Same document can live in multiple folders

Same folder can be inside multiple different folders

Link documents together to show how they are related

Track document properties (owner, risk type, origin, incident type…)

Indexed website snapshots

Upload any type of document and start to structure




(pdf, image, video, Office Word, Excel, Design files …)

Request external people for upload directly into a folder

Track questions & answers (e.g. vendor surveys)

Link to & structure any document from SharePoint

Quick folder color status view



Brainframe makes it easy to manage multiple customers/company entities (frequent context switching)
There was too much information to remember & simply frequently lost with people leaving. Now Brainframe forces us to structure it well.
We saved so much time because we now have one tool in which we structure all our assets and their GRC related information for multiple standards/regulations, and avoid double work
Brainframe has become like a painting pallet for our company, allowing easy collaboration with multiple stakeholders for short and long term
Before Brainframe we were never able to afford a dedicated security & compliance project management tool
Policy & procedure distribution, and collecting the signatures of our staff receiving it has lost us so much time in the past. Now all is build in and easy to show during audits
Thanks to the easy document templates, versioning and customizable document approval workflows, it is now easier than ever to get asset owners started
We often lost time doing duplicate work, to show compliance for multiple standards and regulations. Now all our controls and efforts live under one roof making it so much easier to go through an audit
I love the way I can now structure data from SharePoint in a way that makes sense for us, while keeping the information where it was originally stored
When I find some interesting website with technical documentation, regulation or vulnerability information, I simply take a website snapshot, and I'm sure I'll always find it back
Before Brainframe it was extremely challenging to visualize dependencies between different assets of our company. With the easy document linking, everything simply hangs together and can even be visualized graphically
I used to have an external diagram tool for which I had to store a proprietary file format + PNG, which I then had to add to my documentation. With Brainframe this is simply build into the system with full version management
The way Brainframe allows me to add multiple types of risk readings (security, privacy, safety, ...) on any asset, which then can be visualized on a risk matrix based on the folder I'm in, is simply genius
Because we now do all in a structured way, we no longer have the problem that auditable proof of actions are missing or lost.
Made 4 multi-entity

Managing multiple companies as a consultant or multiple legal entities of your company in a fully isolated and easy way

Save time

Stop wasting time with emails, task planning and loss of important project details by bringing all in one place

Integrated planning

Do all your task/project planning related to your ISMS in the same platform.

Affordable
We want to make it a no brainer for small to medium companies to use a state of the art system
We have your key activities covered!
Collect
With Brainframe you get a dedicated workspace for the customers or company entities you manage, where you can centralise all relevant information in a highly structured and visual way, making your information management system come to life for both you and your collaborators.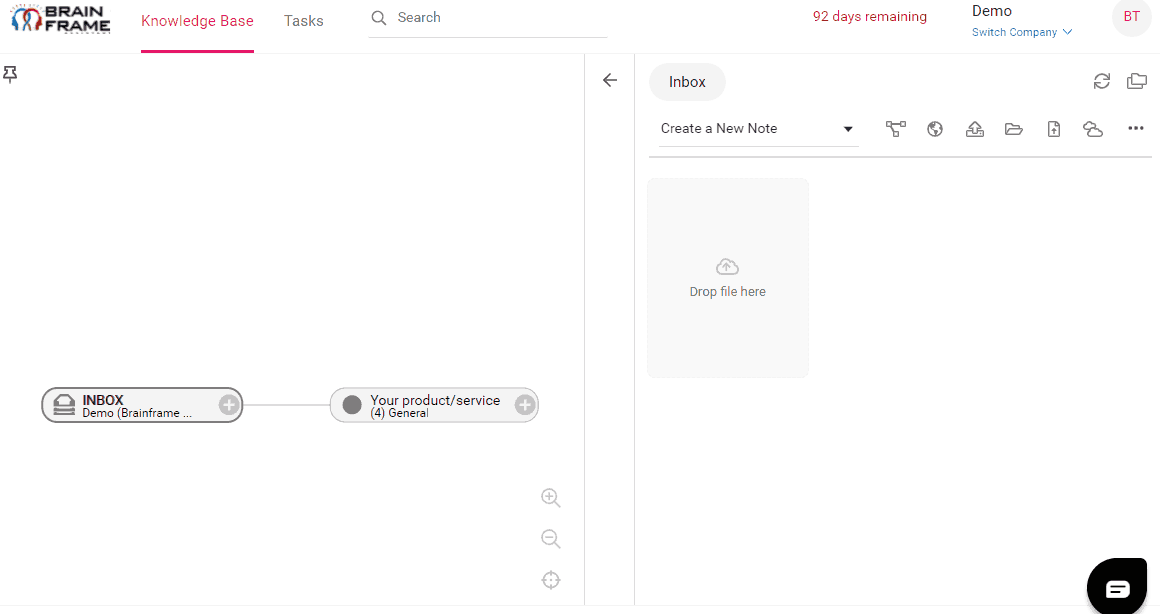 Visual folders
Structure all your compliance, projects or system related information inside intelligent context aware folders while allowing the same document/folder to live in multiple folders at the same time. This gives you a flexibility you've never seen before!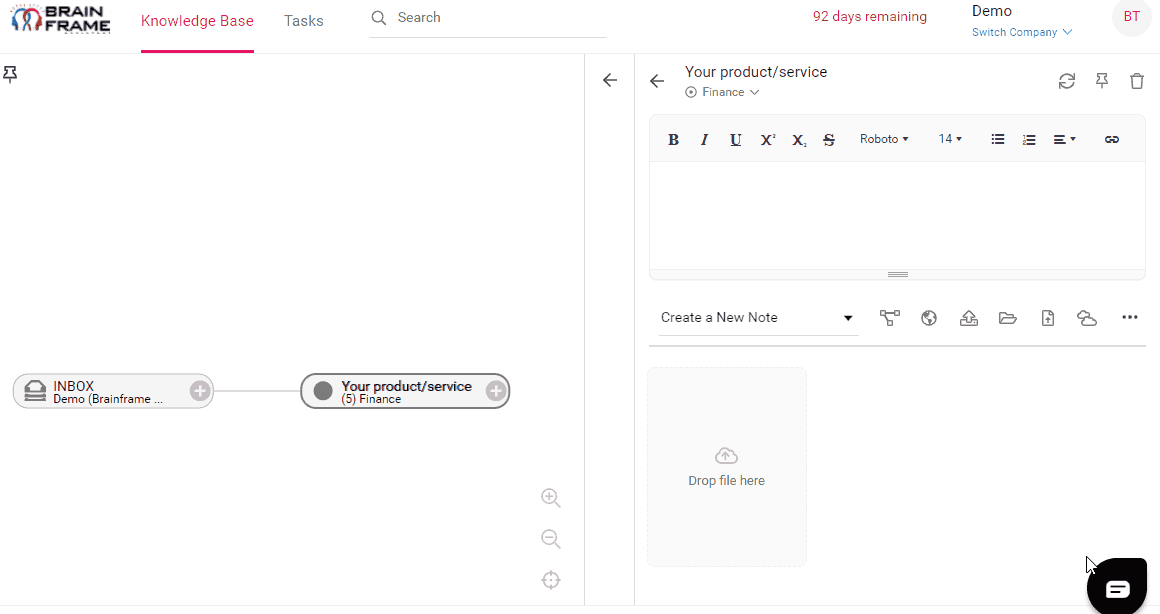 Upload requests
You need a document from a supplier or colleague? Ask anyone to upload files directly in the correct folder in your workspace without them having access to your document management system. Stop wasting time with emails or hunting down people to get what you want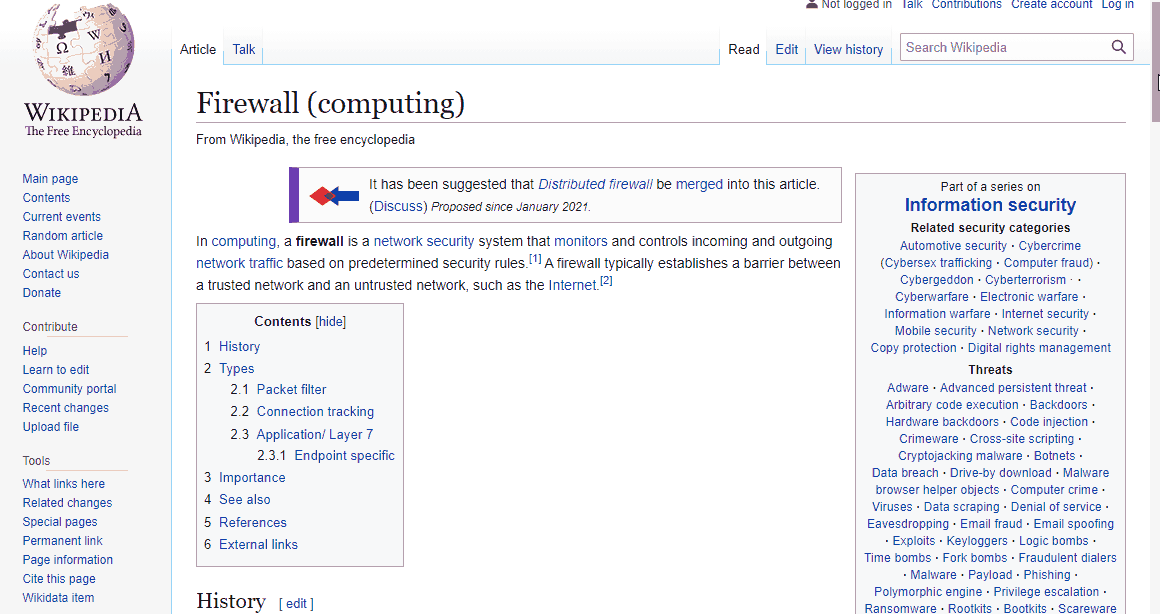 Website snapshots
Remember those situations where you could no longer find that website that perfectly described a specific regulation, standard or way to implement something? Now you simply take a image snapshot of any website and store them where it makes sense. On top of that we index the content so you can quickly find it back later.

Document
With Brainframe you get a dedicated workspace for the customers or company entities you manage, where you can centralise all relevant information in a highly structured and visual way, making your information management system come to life for both you and your collaborators.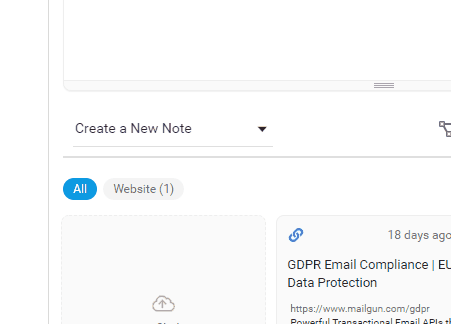 Document types
PDF, Word and Excel is what most of us know, we reinvented document types to align with asset types and other industry specific terminology bringing your workspace to life to a whole new level of detail.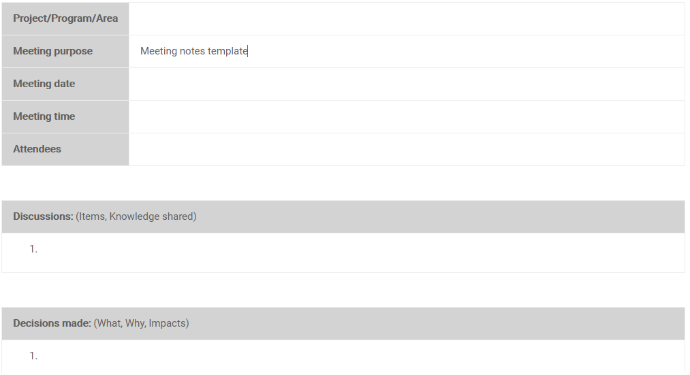 Document templates
Many of our document types come with their own template content to accelerate your work. But you can also define your own templates which includes versioning so you can show your auditors when you used what template and keep track of its changes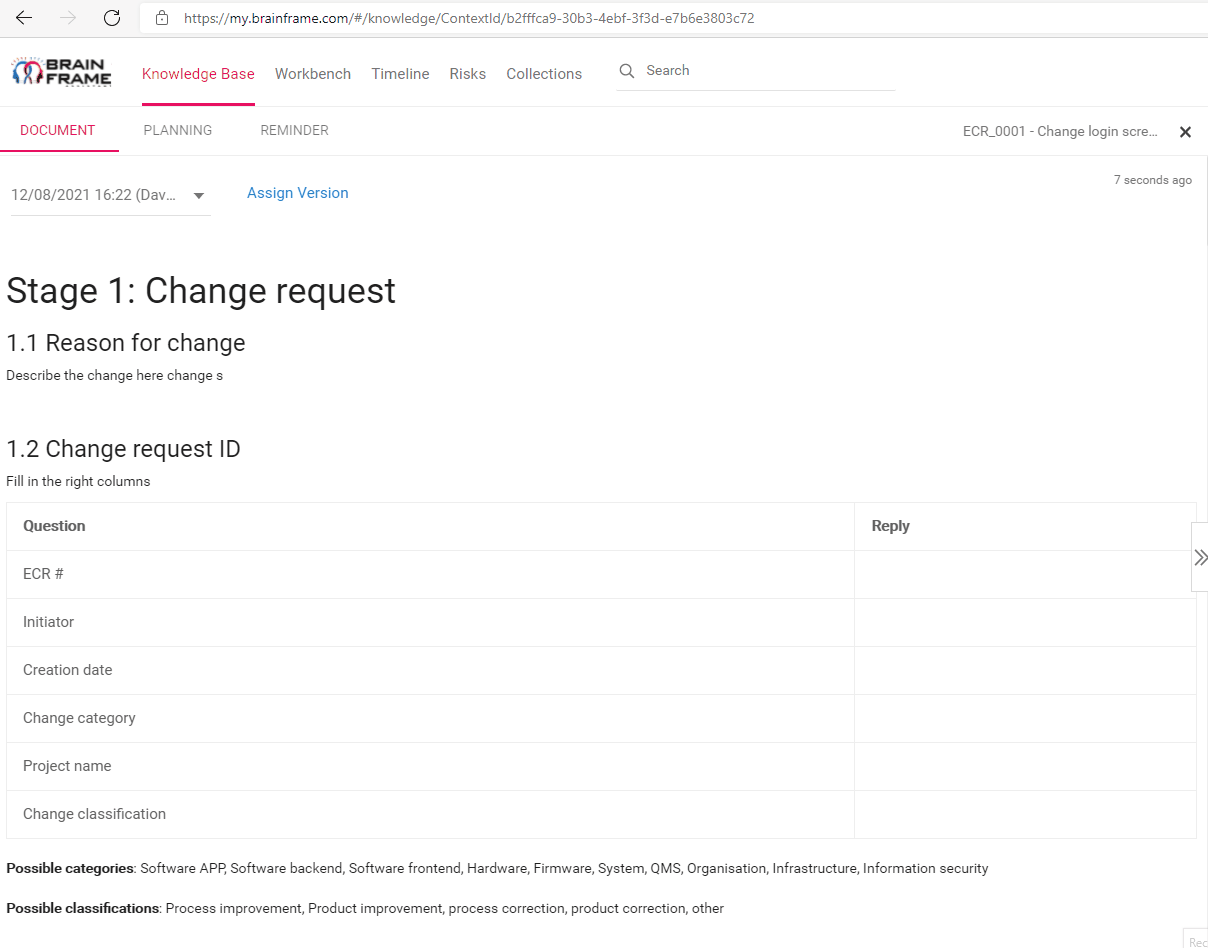 Versioning & Approvals
All documents in Brainframe can be assigned a version for easy audit control. Some documents require approvals before they can be published, which is why we give you a flexible approval workflow where you can define multiple stages with different approvers per stage. Each approval is verified with a one time key (eg google authenticator). We offer two types of approvals:
Simple approvals - where the content of a specific version cannot be modified in the different approval stages
Dynamic approvals - where in each stage you're able to modify different parts of the document (see animation on the left)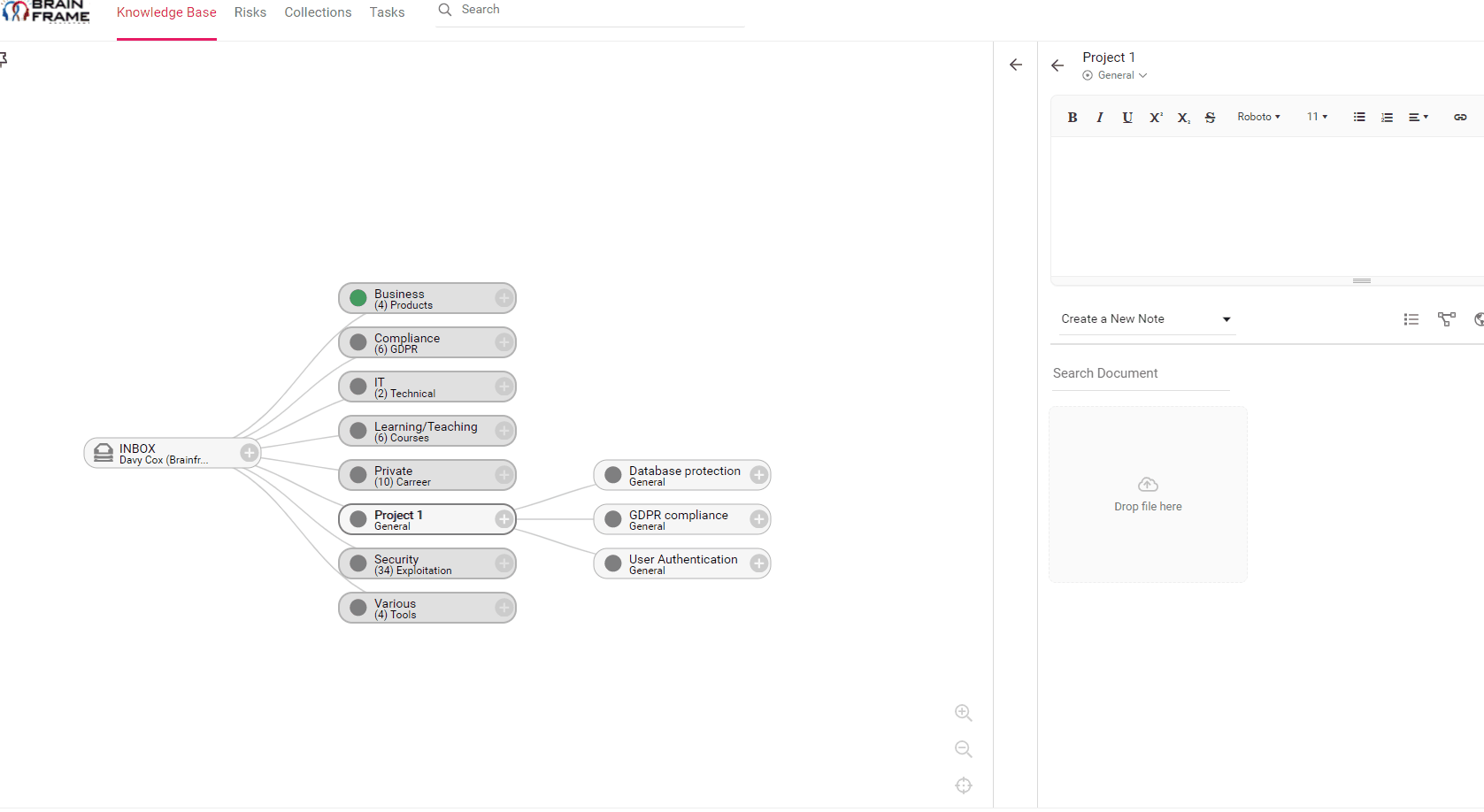 Diagram editor
Don't you hate it that you always need to use different tools when you need to make diagrams, and then store them in some format that nobody else can read? That is exactly why we decided to built-in a diagram editor that allows you to make schematics or flow diagrams. Of course all with history of changes & versioning included.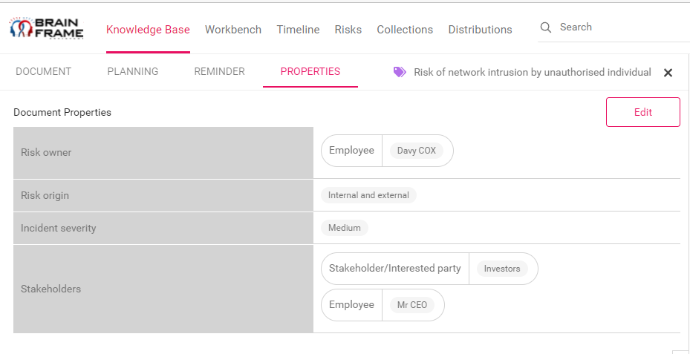 Document properties
Do your documents have specific properties you need to track? Properties like "Owner of document", "Risk origin", "Category of supplier". Do you need some of these properties to be force collected/verified during risk/KPI readings? Do you want to have full flexibility on defining these properties?
Then you will love the way our document properties work!
Manage
When you depend on multiple people to reduce risks and stay compliant then keeping an overview on the tasks and projects that need to be done by different teams and doing the follow-up is extremely time consuming without an easy system.

Brainframe makes this child's play and integrates task management, Gantt timelines, Kanban boards and planning right into your workspace!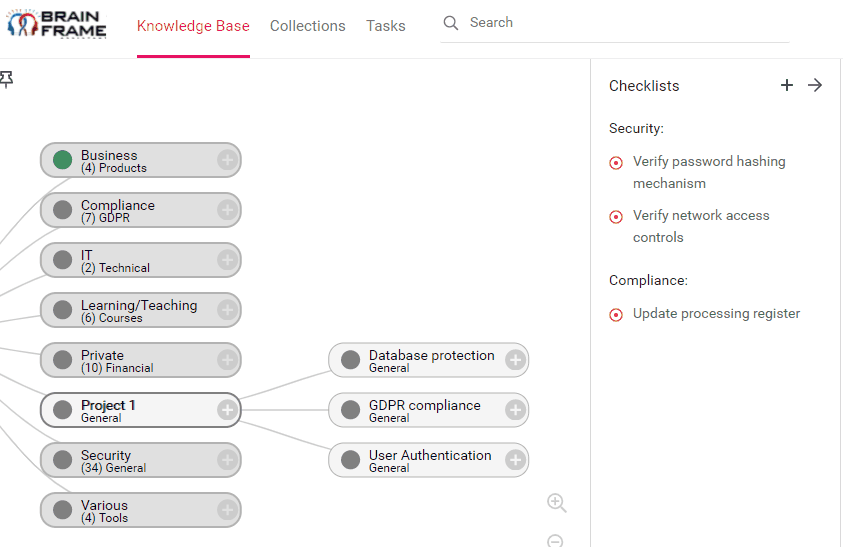 Project management
Any document can be marked as a task, and using our folder based views you can quickly get a hierarchical view on what tasks are still open for that folder (and its subfolders). These tasks can also logically be grouped together in the form of checklists making it easy to track progress and compliance at a glance. (e.g. checklist for GDPR, ISO27001, Quality, ...)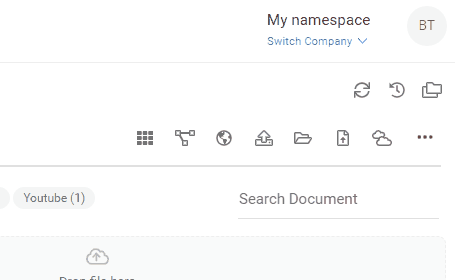 Multi entity
If you are a consulting company that needs to manage multiple different customers, or you are responsible for multiple different entities in a big multi-national, then we have you covered. We let you manage fully isolated workspaces while letting you quickly switch between them.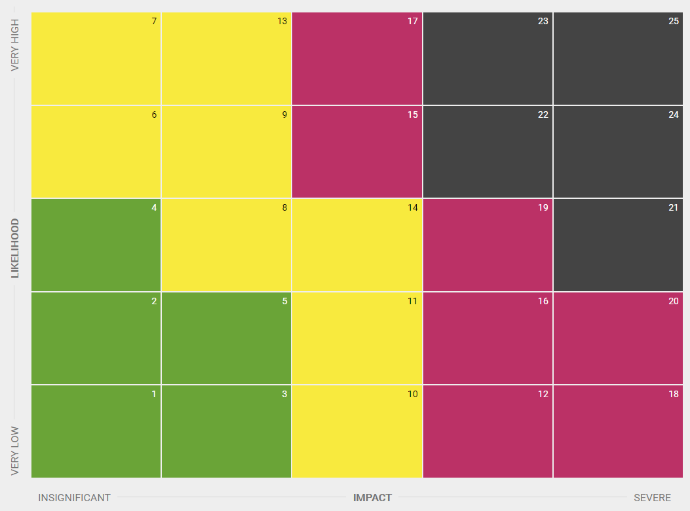 Manage risks
In the beginning risks are easy to manage, but as soon as you need to comply with multiple standards and regulations it quickly becomes a mess. Brainframe allows you to define multiple types of risks to be tracked on the same assets (CIA risks, Safety risks, Business risks, KYC risks, ...) and this all visualized onto a dynamic risk matrix that is folder aware giving you a hierarchy based view on the different risks (e.g. per project, per department, per supplier, per customer ...)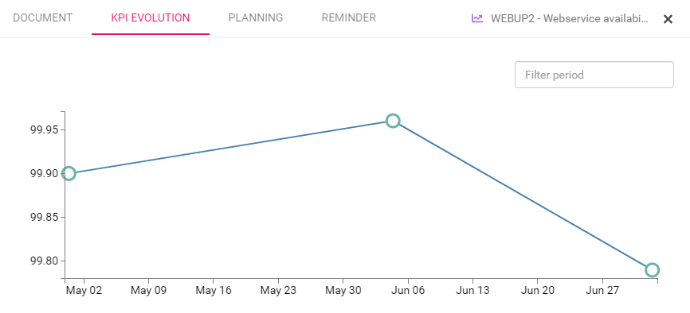 KPI tracking
They say that if you can't measure it, you can't improve it. That's why we help you track progress on your self defined metrics that make sense for your management system using fully customisable formulas for KPIs, while visualizing their evolution over time.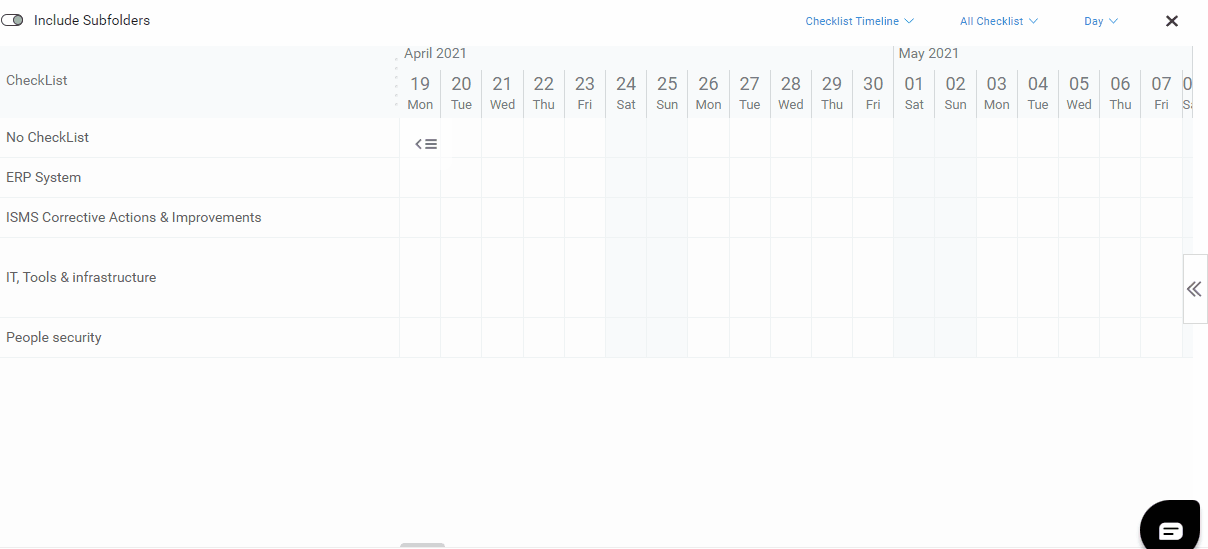 Roadmap & timeline
Are you still tracking your compliance roadmap in Excel, struggling to keep it up to date? We allow you to track any document task (e.g. project definition, initiative, corrective action) onto a Gantt timeline and visualise/group them per responsible or per checklist (e.g. ISO27001, GDPR, Quality, ...), making it easy to show management what is coming up or show your auditors what you have done and how you plan to continue.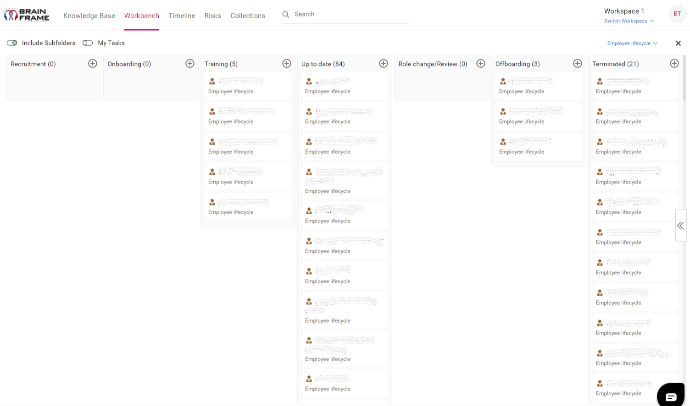 Custom Kanban
Add any document as a task on a simple todo/doing/done Kanban board, or define your own Kanban workflow to making it easy to visualise tasks and progress in a way that makes sense for both you and your management (eg employee life cycle management, incident tracking, CAPA progress, ...). This Kanban also is folder hierarchy aware, giving you a view only on the folder (and its subfolders) you are in (e.g. per project, per department, per supplier, per customer ...)

Distribute
All of your documents can easily be added to distributions, which can be assigned to any internal or external collaborators. This makes collecting proof that your policies have been read a problem of the past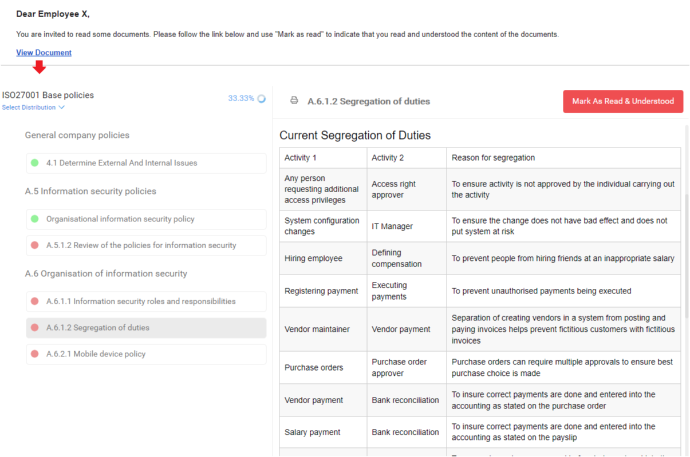 Distribute policies
Are you still printing your policies or using an outdated local intranet to distribute policies to your different collaborators? How are you showing your auditor that people actually read your policies?
With Brainframe you can simply add any document (e.g. policy or procedure) to be part of a distribution. This distribution you can then share to your audience (internal or external) without that they need to log in. The collaborators then mark the document as read & understood giving you and your auditors a clear and immediate view on the actual distribution and adoption of the content.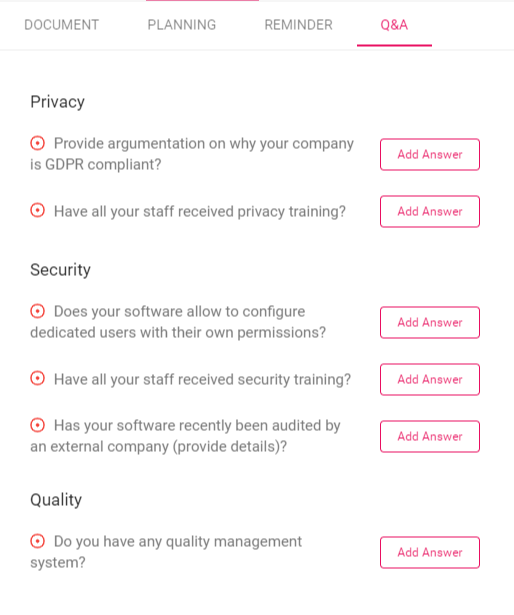 Questionnaires
Security and compliance often require you to ask the right questions to your vendors and the ability to proof to your auditors that you did this follow-up. Using our Q&A solution we make it easy for you to create your own questionnaires that can be re-used over time. This allows both you and your auditors to track these activities. And as usual, all including versioning so you can show how replies changed over time

Ready for information management like a pro?
Give yourself the wings you deserve and start using Brainframe!